How do you use the Kano model?
|
| Director Business Unit E-Invoicing/SAP&Web Process, SEEBURGER
Kano Series Part 2 – Surveying your customers.
The Kano model lends itself particularly well to complex products and services. It is, however, important to select the right type of data collection method for your goals and setting. Read on to find out how to prepare Kano questionaires: easy to use for the respondent yet very informative for the initiator.
The Kano  model is a concrete measurement method which classifies the individual feautures and functions of a product or service as a threshold, performance, excitement, indifferent or rejection attribute. It then quantifies their potential effect on customer satisfaction.  The Kano model differentiates between five levels of product or service quality, as described in part 1 of this series. The initials and terminology in brackets in the list below are the original translations of Kano's model:
(M) Threshold attributes, simply expected (Must-be)
(O) Performance attributes, looked for by customers (One-dimensional)
(A) Excitement attributes, from which customers perceive a benefit (Attractive)
(I) Indifferent attributes (Indifferent)
(R) Rejection attributes (Reverse)
Using these attributes, the Kano model lends itself particularly well to complex products and services. It's important to invest the time in preparing the customer surveys so that the questions fit the schematics of the Kano model.
Kano model – four stages in conducting customer surveys
Identify all the expectations on your product or service
Design a Kano questionaire
Survey your target market using your Kano questionaire
Analyse and interpret the results
Stage 1: Kano model: Identifying customer expectations
In order to identify customer-relevant attributes, you need to start by collating all the characteristics of the product or service, such as functionality, flexibility, etc. The best input can be found in teams consisting of representatives from the R&D, Sales and Distribution and Marketing departments, as well as those in product management.  This team then works together to define and classify between 20-100 features of the product of today and tomorrow. Before classifying the various attributes, it's important to specify the target market, as only in extremely rare cases can the same analysis be used across the board for all industries or market segments. Expectations will often differ wildly between market segments.  One group of potential customers may find a certain feature indispensable, while another segment may consider it completely pointless. Therefore, always start by clearly defining your target market segment before identifying the expectations on your product.
There are a number of techniques which you can use to identify demands on your product, depending on your specific setting or goals. When preparing a Kano analysis, you may end up employing a number of different research methods to find out which attributes affect customer expectations at which level:
Threshold attributes
Analysing customers' complaints on similar products
Surveying former customers and analysing lost tenders
Performance attributes
Surveying (potential) customers and your competitors' customers
Analysing the product descriptions of similar offerings by your competitors
Excitement attributes
Surveying ʽkey users' (meaning particularly involved customers, who often have ideas for product innovations)
Analysing mentions of excitement attributes in social media posts and comments, as well as in comments and reviews on comparison sites.
Stage 2: Design a Kano questionaire
A key component of the Kano questionaire is paired questions consisting of a question in a positive, functional form, and a counter question in a negative, 'dysfunctional' form.  If trying to gauge how customers perceive an integrated online help feature , customers are first asked how they feel about a system including this. Then, they are asked the opposite question, namely how they would feel about a system which doesn't offer integrated online help.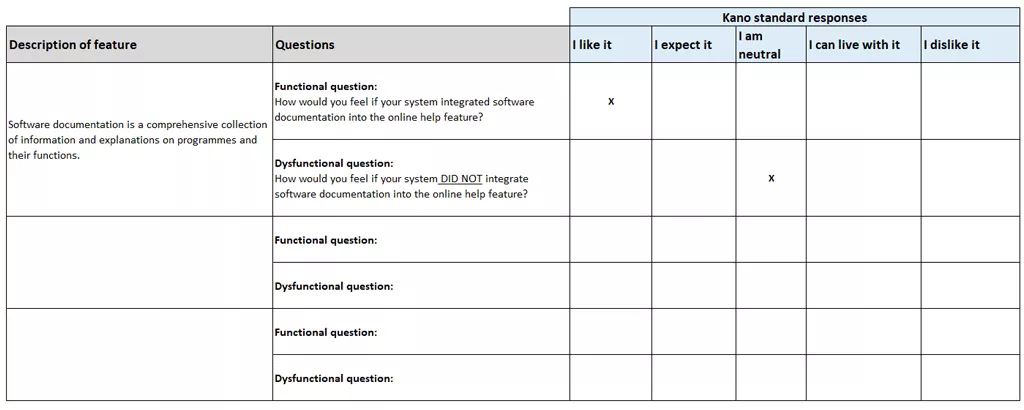 This particular way of asking questions in a Kano questionaire allows a customer to express different preferences on whether a particular function or feature is present (functional question) or absent (dysfunctional question). The preferences for each is split into five categories, which are shown shaded in blue in the figure above.
Stage 3: Using a Kano questionnaire with your target market
Due to the paired questioning technique, a Kano questionaire can become quite long for complex products and services. The repetition in question structure, familiar yet still unfamiliar, means participants are at risk of becoming tired or frustrated. In order to still receive useful results, you could offer respondents incentives for their time, such as retail vouchers or something downloadable.
When deciding how to conduct the surveys, it is useful to weigh up the advantages and disadvantages:
Written questionaire
Standardised interview
Advantages

Low costs
The survey can be conducted online and automated

Very low dropout rate
Follow-on or clarification questions can be asked

Disadvantages

Generally low questionaire return rate

Interviewer may (uninententionally) influence reponses.
Stage 4: Analysing and evaluating the results from a Kano questionaire
Evaluating the results is done with the help of a statistical algorithm, which classifies the features and functions surveyed into threshold, performance, excitement, indifferent or rejection attributes. There are also a number of software solutions on the market which you can use to interpret Kano questionaires. In the third part of our Kano series on the SEEBURGER Blog,, we look in detail at the data analysis possibilities at your disposal.
Conclusion: The Kano model helps you develop your products in line with what your market actually wants
Companies can no longer afford not to develop their products in line with customer expectations. Reaching your target market is one thing, but exciting them is another, whether this is with products, services, image, or transparency. Conducting a Kano analysis gives you the chance to understand your customers better and therefore to introduce measures to attract brand ambassadors and turn your customers into fans.
Get in contact with us:
Please enter details about your project in the message section so we can direct your inquiry to the right consultant.
Written by: Rolf Holicki
Rolf Holicki, Director BU E-Invoicing, SAP&Web Process, is responsible for the SAP/WEB applications and digitization expert. He has more than 25 years of experience in e-invoicing, SAP, Workflow and business process automation. Rolf Holicki has been with SEEBURGER since 2005.